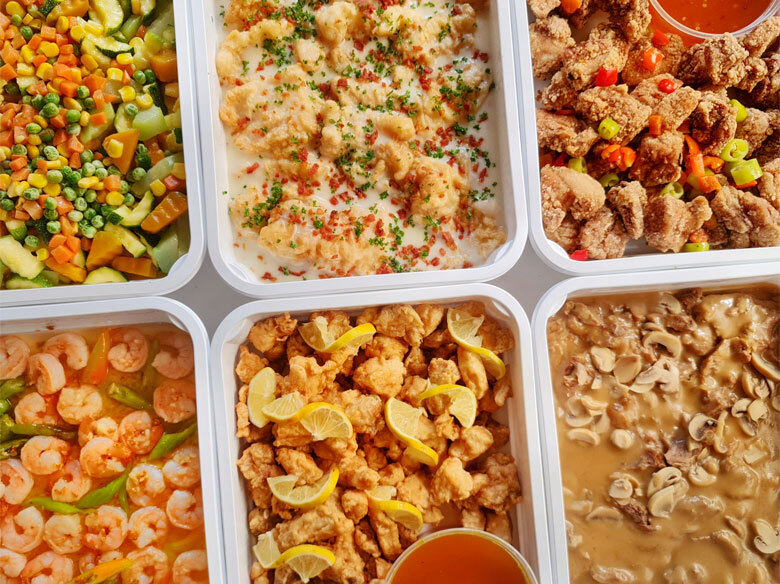 Best Party Trays in Manila | FoodTray2Go
With gatherings and parties slowly dominating our calendars once again, we have to take food prep into account. It's essential to any event, and choosing a great menu is key to keeping your friends, families, and guests happy and satisfied!
That said, having party trays from Manila delivered to your doorstep is a great idea — they're convenient and practical, and they taste as good as any dish prepared by a caterer or restaurant. If you need to order a party food tray in Manila, look no further than FoodTray2Go!
Food Trays to Try When in Manila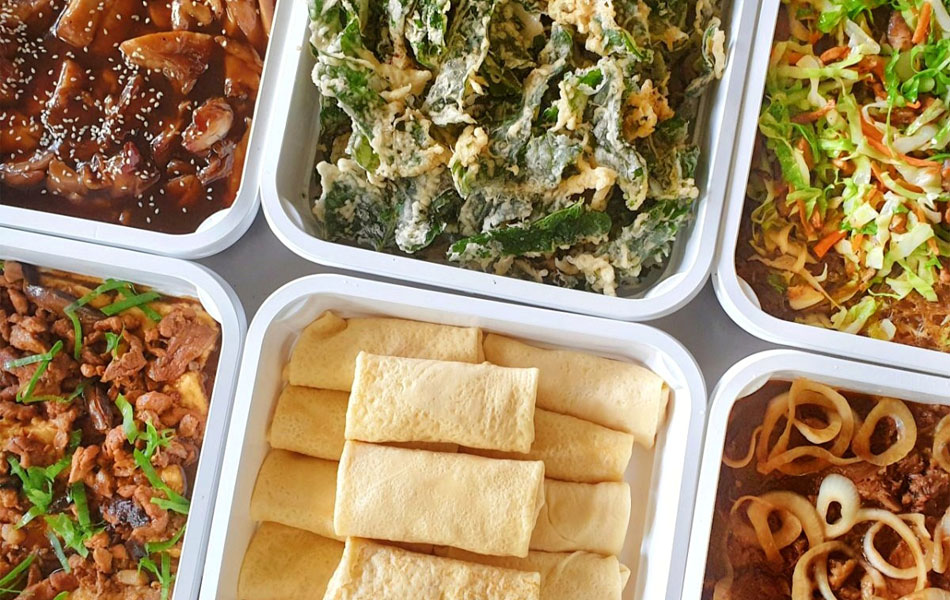 With the quality and quantity of our party platters, it's easy for us to cater to all of your food needs when you're planning an event — regardless of what cuisine you're looking for! Here are some of our best-selling dishes, and our recommended party trays from Manila to try at your next celebration:
Filipino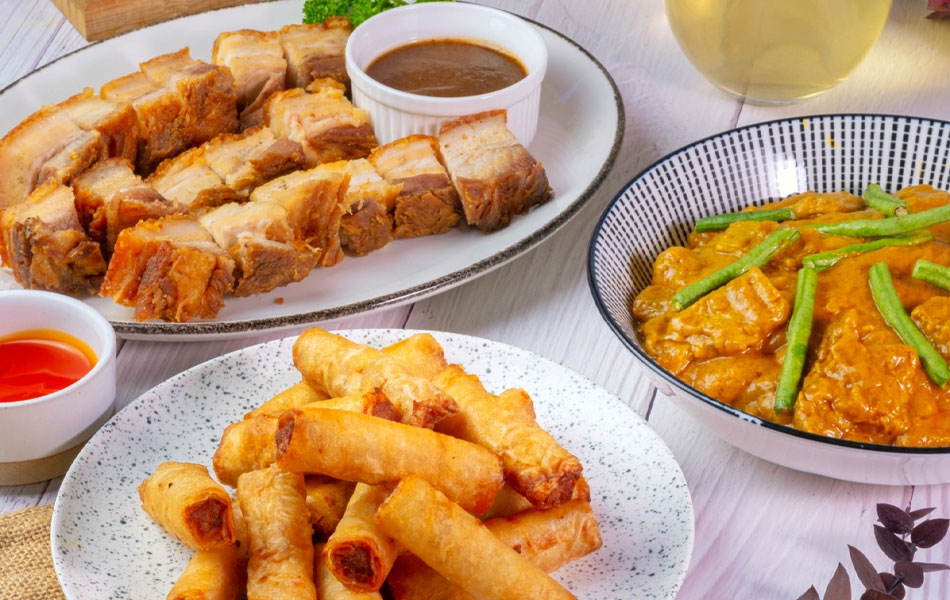 If you're looking to satisfy your cravings for traditional Filipino food, then we've got you. Our party trays in Manila have something for everyone, too!
Our best-sellers in our Filipino Salu Salo package include classics like Beef Salpicao, Kare-Kare (Beef & Goto), Sisig, Lechon Kawali, Tokwa't Baboy and Chicken BBQ.
If you're looking for pancit, then try our Pancit Bami — also known as pancit bisaya — it's sure to be a hit on any occasion, may it be an office lunch or birthday party!
To top it off, you also have your pick of dessert — you can try our best-selling Buko Pandan, or maybe even add on our refreshing Frozen Brazo de Mercedes (which comes in either ube or avocado flavor)!
Each order of our packaged party platter in Manila comes at a price range of PHP 2,773.00 – PHP 5,545.00, and can serve 5 to 10 people! In your order, you'll have your pick of (1) beef/pork dish, (1) chicken dish, (1) pork/fish dish, (1) vegetable/noodle dish, and (1) dessert!
Chinese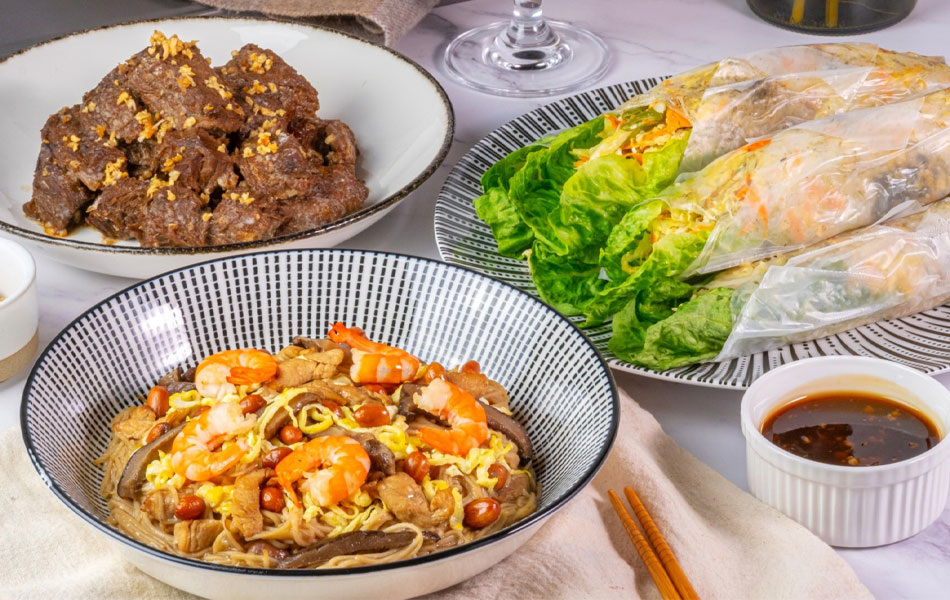 You can never go wrong with our Chinese Lauriat Set. It serves all the classics that we Filipinos know and love — and, you have your choice of our best pork, beef, chicken, noodle, and veggie offerings, plus a special selection of Chinese desserts!
Each of our Chinese Lauriat sets are priced from PHP 2,773.00 to PHP 5,545.00, with platter sizes good for 5 to 10 people. Have your choice of (5) different dishes to mix and match to your liking.
It's hard to pick a favorite from this food tray from Manila, but you'll definitely want to try our Lemon Chicken — one of the best deep-fried recipes served with a side of tangy lemon sauce fit for any Chinese menu. We also recommend our Misua if you love those beautifully delicious dishes perfect for symbolizing long life on one's birthday. Not to mention these other favorites including Salt and Pepper Spareribs, Sweet and Sour Pork, Shrimp Balls, Hot Chicken Salad and so much more!
Top this Chinese-themed party tray in Manila with the all-time favorite Mango w/ Sago. Sweet, creamy and extra chewy! It's a dessert you'd want to order all year long! Or maybe you're secretly eyeing our Mango Crepe? That's another favorite you don't want to miss!
Korean / Japanese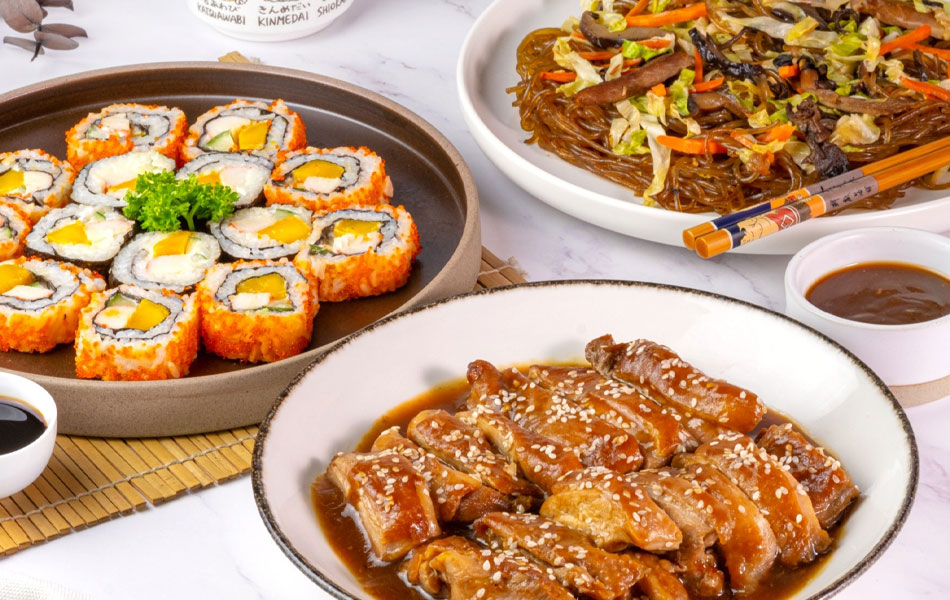 FoodTray2Go also delivers appetizing Japanese and Korean platters! Our Korean / Japanese Cravings Set allows you to have your choice per category — (1) beef, (1) chicken, (1) pork/fish, (1) noodles, and (1) dessert. Each set comes in a price range of PHP 2,798.00 good for 5 people and PHP 5,595.00 good for 10 people, and can easily be the quickest most delicious way to serve up food for all types of guests! Perfect for intimate dinners or even large gatherings.
Popular picks include our Chicken Teriyaki — the perfect sweet and savory dish for serving over rice! This Japanese comfort food delivers a big hit of salty umami, slight sweetness, and traditional flavors of garlic, soy sauce, and sesame.
Maybe think about pairing this with our California Maki. It's the go-to maki order for many, and features a combination of well-balanced flavors all harmoniously wrapped together in every mouth-watering bite.
We have some great choices from our Korean menu. You can try our sweet and savory Korean Beef Stew — a sure favorite from the list. Or, you can order our set with Beef Bulgogi or Pork Bulgogi, which is tender and tasty with delectable Korean flavors we know all too well. A sure win on any dining table!
Top this order off with some Japchae — one of the most popular Korean dishes in our party trays from Manila. It's the number one dish during Korean parties, so it's sure to fit right into any celebration you're planning!
Premium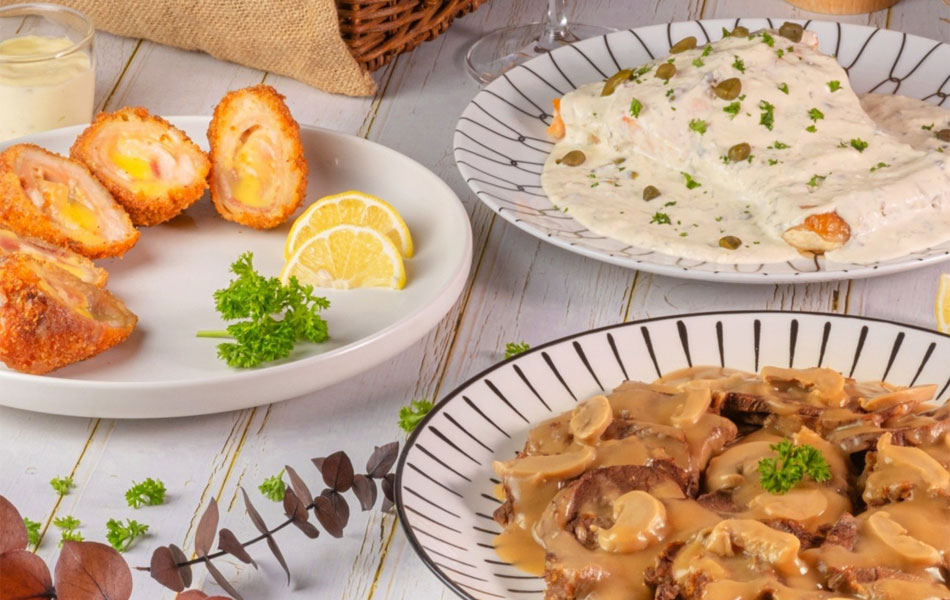 Enjoy the best FoodTray2Go has to offer with our Premium party tray in Manila. It features our finest dishes and has just about every kind of delight you can think of on a single tray. Every single guest of yours will have something to look forward to when the food is served!
A must-have on your full FoodTray2Go spread is our #1 best-selling Baked Cheesy Garlic Prawns. A perfect centerpiece to make any gathering feel extra special.
For the beef, may we recommend our perfectly cooked Tenderloin Salpicao. Prepared with our secret recipe, this beef dish will elevate your dining experience and satisfy cravings you didn't know you had!
For our fish course, you have a variety of Baked Salmon dishes you can choose from — with Creamy Lemon Caper Sauce, Cheesy Mayo Garlic Sauce, or Mango Salsa Sauce. All of which adding to that perfect balance of an already perfect meal.
Take another pick of our classic seafood dishes with your choice of Seafood pasta with white sauce / garlic oil or maybe you'd prefer to enjoy it with some Scallop Tempura or Hot Shrimp Salad. We leave it up to you since every dish will be equally delicious!
Included in our dessert menu is your choice of Buko Pandan, Coffee Jelly or Mango Sago. But if you're feeling like adding something a little more special, look no further because this beautiful Caviar Cake topped with smoked salmon rosettes will not disappoint. Perfectly paired with a bottle of La Tita Sangria or maybe some bubbly with our Freixenet.
Why Order From FoodTray2Go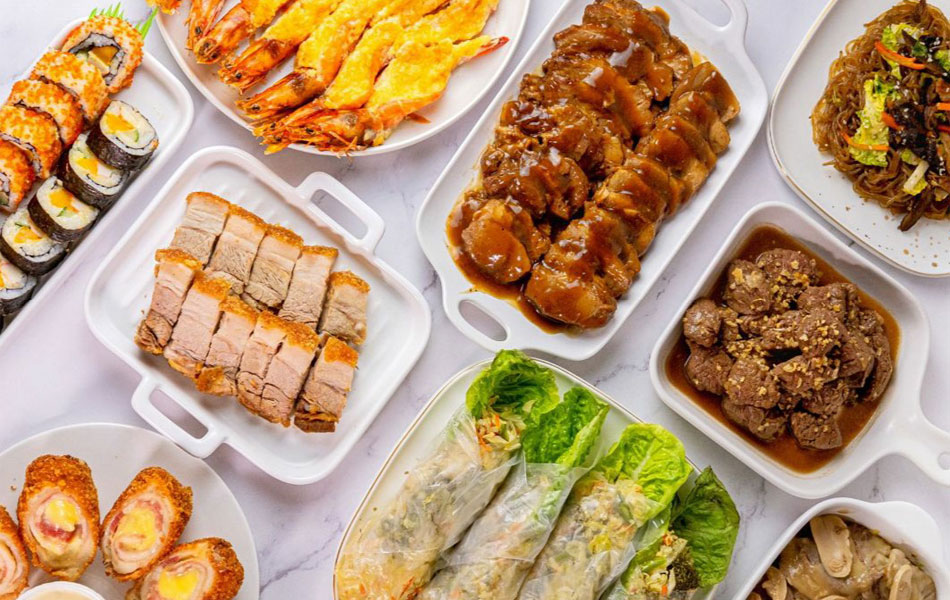 Catering to groups and families since 2018, FoodTray2Go is one of the best party tray servers in Manila! Here's how we create a more convenient way to provide food for your events:
Easy Ordering
Ordering food has never been so easy than with FoodTray2Go! If you're planning for an upcoming corporate lunch, birthday celebration, or any other simple, intimate gathering with others, then let us be your go-to party trays in Manila!
Each order is easily booked on our website, and each one has reasonable prices and generous servings — all cooked to perfection and with the same quality you'd expect at a restaurant!
One-Stop Shop For All Your Cravings
Whether you're in the mood for beloved Filipino fare or craving East Asian cuisine, we can help. From our wide selection of appetizers, meat, seafood, vegetables, pasta and noodles, and desserts, we're sure to have the dishes you're looking for!
Areas We Cater To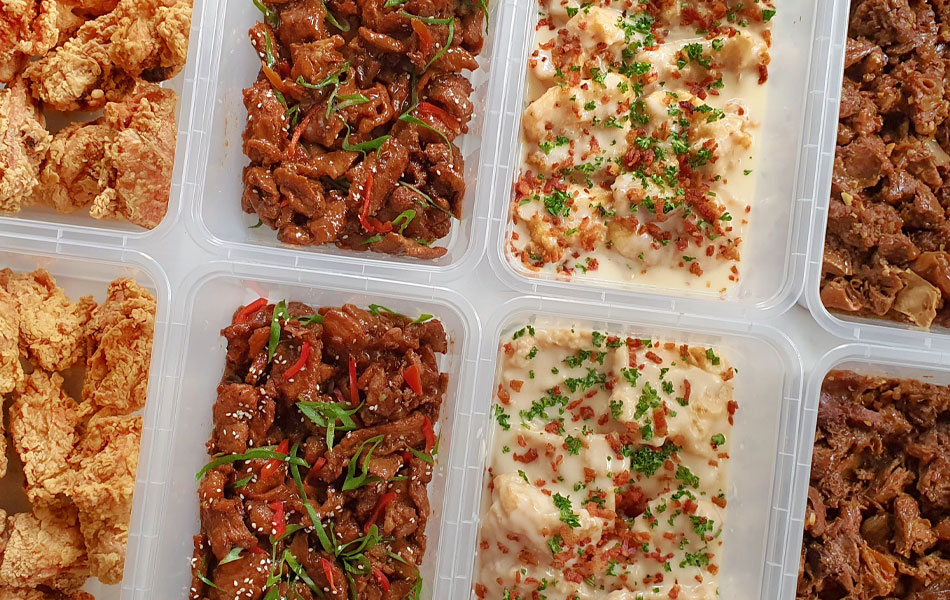 We're based in San Juan City, and can cater to anyone in Metro Manila!
For pickups, you can find our business on Waze/Google at "FoodTray2Go" — 275 Santolan Road, San Juan City (in front of Santolan Town Plaza, beside La Consolacion convent). You can also have third-party pickup through Lalamove, Grab, Mr. Speedy, Transportify, Angkas, JoyRide, TokTok, or Happy Move at the same location.
Simply order your party tray from Manila from us at least a day before you need it! Cut-off is at 4pm, though if you require some same day orders, we'll do our best to make this work for you. Just send us a message and we'll take care of the rest!
Order Your Party Trays Today from FoodTray2Go!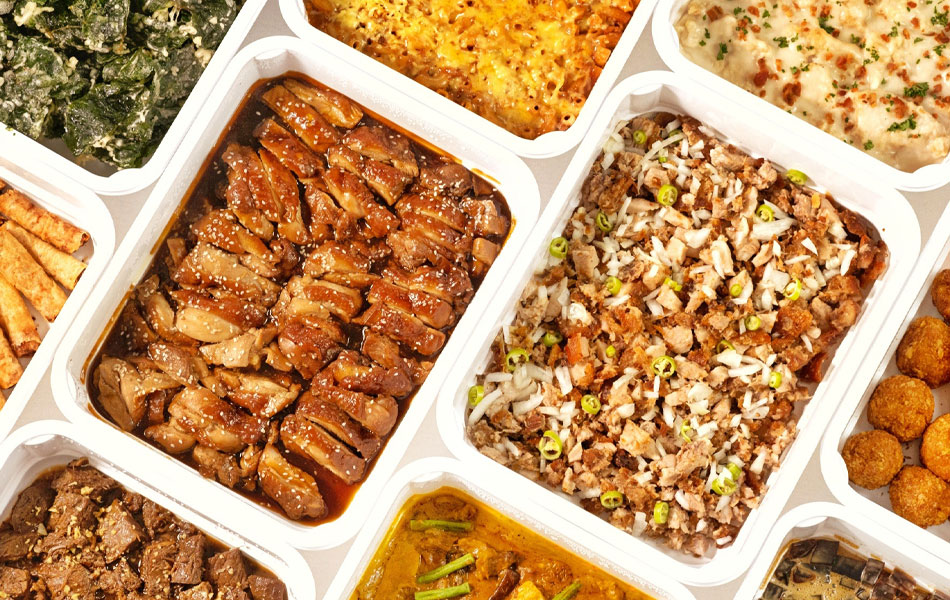 If you've got an intimate or large gathering coming up, then you need food — and, there's no better option than the party trays in Manila from FoodTray2Go! They're a convenient way to serve up impressive dishes with the same quality you can find from the best restaurants and caterers.
Order our quality and affordable food trays in Manila today from our website at https://foodtray2go.com/. In need of some assistance? You may contact us through our Instagram and Facebook pages @FoodTray2Go or through viber at 0917-7026395 for bulk order inquiries and questions. We are open Monday – Sunday | 9AM-5PM.